Ava Sinacori | Head Photo Editor
May 13, 2021
Despite all of Covid's limitations, students are participating in the non-school affiliated tradition of "powderpuff" football this year. Set up by some of the senior football players, powderpuff is a San Clemente tradition with a strong rivalry between seniors and juniors. Due to the pandemic and this past year's limitations, many senior activities have been canceled, so many students were excited to hear that powderpuff was still taking place this year.
"Since we didn't get a normal school year, Powderpuff is a great way to hang out with our classmates before college," senior Madilyn Gutowski said. "Everyone is excited to participate and have great attitudes on the field."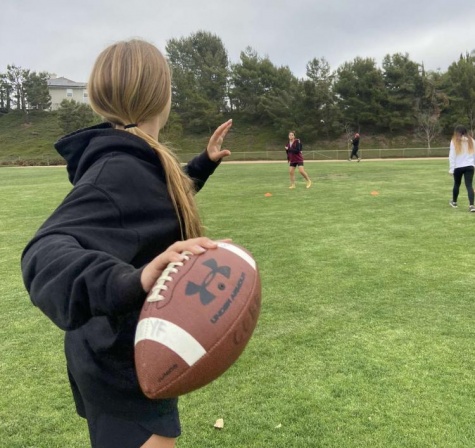 Powderpuff football games are flag or touch football matches between girls from junior and senior classes or cross-town school rivals. The games are an annual tradition at many high schools and usually occur before homecoming or in San Clemente's case, right before prom. It is a great way for students to be active and get some anger out on the field. It is also a great learning experience for varsity football boys participating in the coaching process, as many of the girls playing haven't played football. 
"This is my first year participating in powderpuff football and as a senior captain on the football team, it is definitely interesting having a new perspective as a coach," senior Ryland Swarthout said. "It is a fun and exciting experience, as well as a great opportunity to put my football skills and teaching skills to the test." 
Participating in the first few practices has been very exciting for the senior class because it has been more difficult to socialize with so few senior events. This tradition is pushing seniors to work as a team and connect with classmates they may not have gotten the chance to get to know. 
Overall, powderpuff is a great way to get students out of the house and out of their comfort zones. The first game will be hosted at the Lake Forest sports park on Saturday the 22nd at 10:00 am, so be sure to support the senior and junior classes.