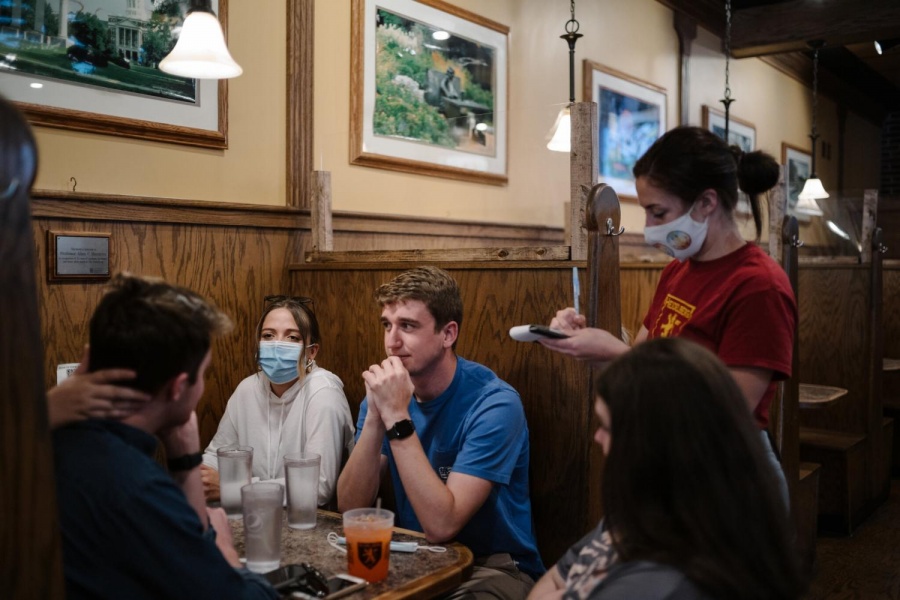 Clara Helm | Head Editor
May 20, 2021
These past weeks have been a limbo of Covid guidelines. We bend our knees, leaning as far back as necessary to not cross the fine line the pandemic has drawn, while also trying to make it to the other side. There has been both joy and criticism over the CDC's recent guidance for vaccinated peoples, and what that means about how we move forward. What has been obvious is that the CDC's research and the crafting of public policy can be in very separate realms, they are not unified in many respects. 
According to the CDC, "Fully vaccinated people can resume activities without wearing a mask or physically distancing, except where required by federal, state, local, tribal, or territorial laws, rules, and regulations, including local business and workplace guidance."
This has been a dramatic reversal from the global health agency who has been relatively cautious in earlier guidelines for those who are vaccinated, which has people wondering: what has changed? The CDC cites the current state of the pandemic in the U.S. —such as significantly decreased deaths and hospitalizations—as the reason for the sudden shift, along with studies that show that vaccines are extremely effective.
While the U.S has made plenty of great progress in vaccinations, there are still around 40% of Americans not vaccinated, whether that be one or two shots. How long will we wait for those people to get vaccinated for us to go back to normal?
According to Dr. Anthony Fauci, President Biden's chief medical advisor, this mask mandate is being misinterpreted as "the removal of a mask mandate for everyone. It's not." There is still the factor of each state making their guidelines based on where their state stands in terms of hospitalizations, infection rates, and how many of the citizens are getting vaccinated.
What the CDC's guidelines mean is that most states will look to them for direction on how they should form their own policy. But it's best to look directly to your state policy and announcements about mask regulations and other Covid related information to be best informed.
California will not lift its Covid-19 mask mandate to align with new federal recommendations until after June 15, which is the target date for the state to fully reopen businesses. This delayed change is supposed to give businesses and Californians time to adjust to the new policy, as well as try to focus on getting as many vaccines delivered as possible before the reopening. 
"For fully vaccinated persons, face coverings are not required outdoors except when attending crowded outdoor events, such as live performances, parades, fairs, festivals, sports events, or other similar settings, while for those who are not are required to wear a face covering," the California Department of Public Health said.
Some people may still be skeptical of this lift of precautions, though, not seeing enough people being vaccinated to where they feel safe removing their face covering most places.
"Even though I'm fully vaccinated, I'm choosing to keep my mask on in public places for the foreseeable future; but I trust the CDC's guidance and look at it with hope for what comes next," senior John Koenigshofer said.
The new guidance is likely to open the door to confusion since there is no surefire way for businesses or others to distinguish between those who are fully vaccinated and those who are not. While millions of Americans are getting vaccinated in order to create herd immunity, workers are forced to be mask regulators for customers that are unvaccinated.
At what point is not the workers' duty to be the mask police? And even if workers had to check vaccination cards as proof, many don't have the experience to do so or could not spot a fake. After a year of disgruntled customers, many workers would be relieved for this public health responsibility to be no longer on their shoulders. 
As for schools, masks are still required in most school districts as part of their mitigation strategies for now, but CDC guidance says it's 'ok' for students to sit 3 feet apart instead of the usual 6. A few school boards, caught between the demands of some parents and the appeals of employee unions, eliminated student mask rules only to reverse or revise the decisions. Districts in states from Alabama to Wyoming decided to ditch student mask mandates altogether. In South Carolina, school Superintendent Molly Spearman dropped a statewide student mask mandate and declared Gov. Henry McMaster had no legal basis for an order letting parents choose for their children whether or not to wear masks.
While these responses are obviously mixed currently with as much loosening of restrictions as things start to look up, most schools hope to get their students back to normal for their next academic year which may mean not requiring masks for those that are vaccinated.
"It's been a joy for our senior class to be able to reclaim a small yet precious portion of our high school experience one last time. I never thought we would get a prom, another school theater production, or another concert before we graduated," Koenigshofer said. "And yet, thanks to everybody's efforts and the power of vaccines, we managed to get our senior experience back. It's elating for me and the entire class of 2021."
This new CDC announcement has many feeling like it's the last day of school, excited and hopeful for the summer.
"After receiving my vaccine, I feel more comfortable with returning to school and I am excited for the possibility of the senior year being mask-free. Seeing some senior activities return this year definitely gives me hope for the future!" junior Charlotte Fuertes said.
There are still people that do not want to take the risk of leaving their masks at home, despite being vaccinated. This is completely up to each person's discretion, and there is nothing wrong with that. What will be interesting to see is if masks will become normalized to wear for protection from average illnesses that have a risk of spreading, or how long till people feel completely safe to go maskless.