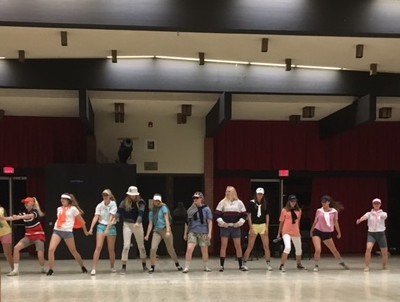 By Ily Macpherson | Sports Editor
November 4, 2o15
Scheduled to debut on Thursday November 5th, the 2015-2016 fall assembly organized by SCHS ASB will be packed with sports teams attempting to dance and club announcements with cute cheesy videos. The them centers around "Straight Outta."
Continuing the tradition, the San Clemente cheer and football teams will be performing together in a routine of senior cheerleaders and senior football players. After trying to think of an exciting theme to go along with the latest trends, they decided to center the performance around the legendary couple, Beyonce and Jay Z. "I think the performance will be cute and hopefully funny because we've been practicing as much as possible", said senior captain Hana Fransz-Myers.
Also set to perform are the boys and girls cross country teams. Although every year the girls team sticks with the theme of onesie pajamas, the tradition is no more. "This year, we decided to go with a 'Straight Outta Kidz Bop' theme instead of the usual to make it interesting. Also, I think it's funny because we're so bad but we don't care", said junior Christina Beaulieu. The boys cross country also will stray from tradition this year, wearing leotards instead of the renowned short-shorts. When asked about their routine, junior Coltyn Stein said, "No words can describe this assembly."
In addition to these four teams, five more teams will be performing along the lines of "Straight Outta." The San Clemente girls volleyball team will be inducting the theme of "Straight Outta a Frat" while the girls golf team will be dancing to the rhythms of "Straight Outta Prison." Another girls team will be performing for the student body: girls tennis. The girls tennis team will be adopting a theme of "Straight Outta Disney Channel." The San Clemente Dance team will also perform, again wowing the student body and leaving everyone in awe.
Aside from the unseemingly large amount of girls teams performing, the San Clemente boys water polo team will be performing alongside boys cross country to "Straight Outta the Swamp."
Be sure to watch for other performances by Madrigals, drumline, and announcements from our very own TritonTimes Newspaper!