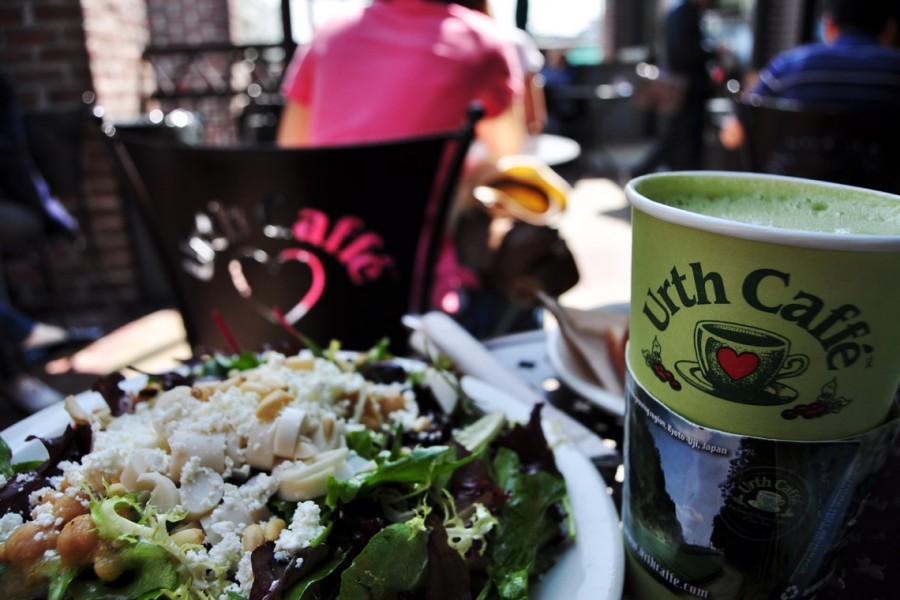 By El Seabern | Writer   &   Taylor Jower | Writer
November 3, 2015
With forty people lining up along the busy streets of Laguna Beach, all in hopes to place their order and be seated at Urth Caffe , I had to ask myself, is this place going to be worth the wait?
As I waited in line for nearly an hour, I had nothing else to keep myself busy besides reviewing the menu. As I read over it, I was astonished by how expensive everything was. Oatmeal for 13 dollars?! Now I was beginning to contemplate whether or not I should follow through with waiting or just leave while I still had the chance. I thought about it long and hard, and decided to stick it out and follow through with my original intentions. All the talk I have heard and gorgeous pictures posted from Urth made the decision a bit easier. In hopes that the hype of the cafe was as great as I had heard, I stood and embraced the idea of how long I was about to wait.
After an hour, I reached the inside where I was able to place my order, I decided on a fruit plate and blended green tea boba, while my friend ordered a panini and mango smoothie. After paying and receiving our order numbers, we sat down and took in the atmosphere.
Twenty minutes later, a waiter came and brought us our food. I was surprised by how quick the food came out because of the busyness of the cafe. As I looked at the food, I was in awe of  its astonishing beauty. How can you make a panini look THAT good? I still have no clue, but I began to see why the food was on the more expensive side. As we began on our meals, I understood more and more why Urth was so crowded. 
The size of the meals was perfect: not too big, but not too small. It left you satisfied but not in desperate need of an after lunch nap. The food itself was exquisite. The fruit was fresh, the panini was perfect, and the blended drinks were perfectly chilled. It was agonizingly close to what I would define as the perfect meal.
As we took a quick picture and finished our meals, we both concluded that the hype of Urth was as well-earned and that the cafe deserved even more fanfare.  The ambiance and food itself were as close to perfection as one could imagine. We left feeling satisfied and happy on our decision to have stayed and toughed out the (understandably) long line.
Taking into account that the wait was long and the meals were quite costly, I still highly recommend everyone to visit Urth Caffe in the near future. Ask anyone and you will hear the same story: the food is worth the wait and cost and that the atmosphere and people are undescribable. Clear up your afternoon and head to Urth for some great food with great people!