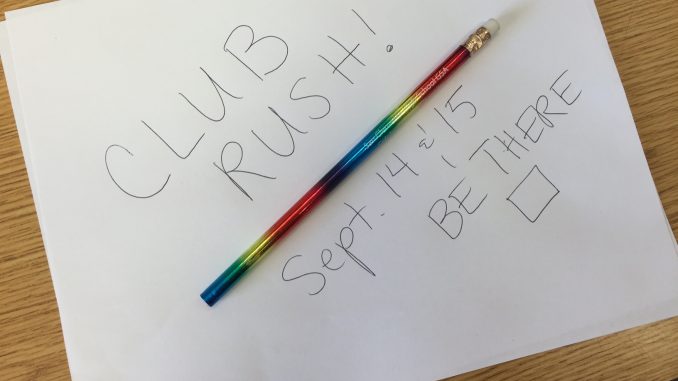 By: Meghan Serceki |Opinion Editor
September 9 2016
 September 14th and 15th mark this year's first semester club rush at San Clemente High School. With nearly one hundred clubs ranging from swing dancing to debate, students are sure to find something that interests them.
Clubs turned in their applications at the beginning of the month and since then club officers have been busy preparing for this event: crafting posters, gathering decorations for their tables, and making sure their candy supplies are fully-stocked. Chloe Kenney, a junior and president of the new club, Club for Corazon, has been preparing for club rush  by "making a poster…and bringing cookies." Last year, ASB placed a restriction on serving food at the event, but clubs are now once again free to pass out candy and treats to students visiting their tables, pleasing both club officers and browsing clubs. This event promises officers new members and gives students an opportunity to try something new.
Even if students don't find exactly what they're looking for, they can make a new club next semester targeting an untapped part of the student body. This is what Chloe Kenney did, and creating the club has given her the opportunity to make a significant impact on the community. Detailing her club's plans, Chloe shared that "I will set up a pledge with the non profit organization Corazon to raise about $800,000." The club's focus also includes setting up fundraisers around the school and arranging a service trip for members of the club.
Club rush can be overwhelming to students–especially to freshmen–since there are so many different options. Don't overwhelm yourself by signing up for every club you see (you will regret this when you get about fifty texts all at once later that night), but make sure to get involved and to sign up for a few things that really interest you! Sarah Mahl, 11, loves club rush, noting, "I get so much joy from seeing all the clubs doing their thing." Club rush offers students the coveted opportunity to try something new, hone skills, or just do something fun with a few  friends! Club rush is a truly inspiring display of student involvement and school spirit.