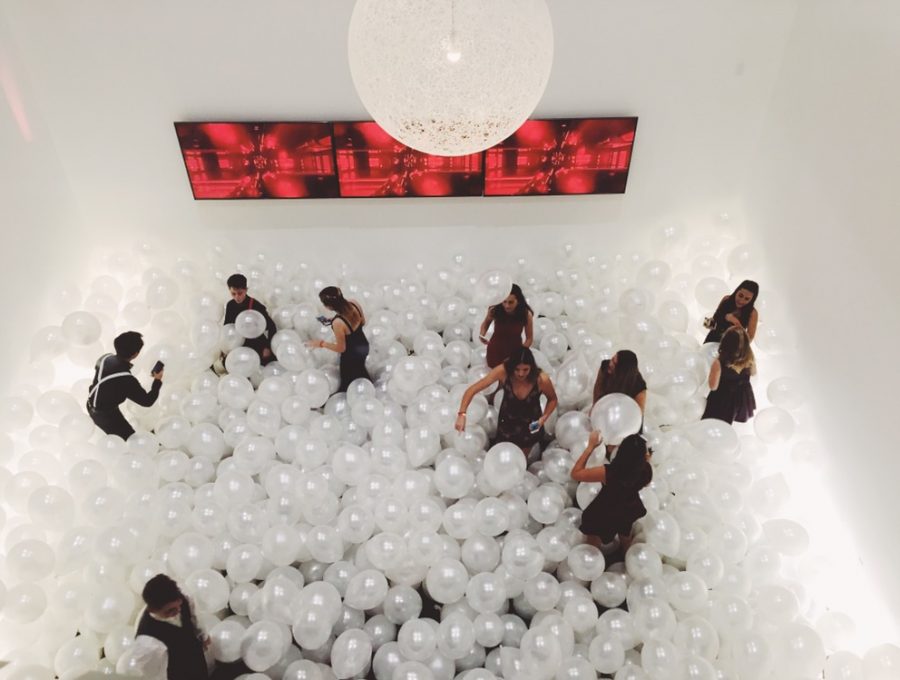 By: Camryn Ostrander | Writer  &  Renee Malone | Writer
January 26, 2017
Just when students thought they were done being stressed out about finals, San Clemente High School throws the Winter Formal at them. But this year, the dance held a surprise for the attending guests. Instead of holding the event in the Camp Pendleton South Mesa Ballroom on base, SCHS got "hip" and traveled to a DJ's warehouse in Irvine. With many cool new amenities, this year's extravagant event was one to remember! Even with the new venue, there were still the struggles of finding the perfect outfit to wear as well as a corsage and boutonniere that flawlessly matched.

Black, red, blue, or pink? Daisies, roses, carnations, or lilies? These questions ran through most students' minds when discussing winter formal. When taking a look at all of the nicely dressed boys and girls, it is obvious that the hard work and dedication to their appearance has paid off tremendously. Short dresses seemed to be a big hit once again, but some others displayed the long dress look. Most girls paired their detailed, short bodycon dresses with stylish, strappy heeled sandals.

Junior Lindsey Joseph said, "[I] wore a lace, tight, tan long sleeve formal dress with black high heels. I liked my outfit because it was simple yet elegant. Perfect for this year's dance."
Although the weather included heavy rain and the temperature hovered around 56 degrees, all of the ladies still rocked the short dresses and the sandals. Not only did the girls dress to impress, but the boys kept up and looked as sharp as a boutonniere pin. Accompanying their date, most boys successfully kept within the color scheme of their date, making each couple a dynamic duo suitable for any photo-op. Patterned collared shirts with solid colored jackets and ties put a fun take on the traditional suit-and-tie look, but even when sticking to the classic black suit, white shirt, and black tie, some boys made it original and kept the San Clemente laid-back spirit in their attire and wore sneakers.
With a new year comes new changes, and Winter Formal was no exception! This year, San Clemente High School hosted formal at a brand new venue, the AV Irvine. This new location had all of the usual perks and more, including a balloon room and a doughnut machine.
Senior Michael Olmos said, "The venue was amazing, truly made my last formal one to remember!" In order to accommodate the bright colors of various dresses and suits, the showroom was decorated with black and white accents. Students browsed the event space, which provided a dance floor and many other areas for discovery.
In contrast to the Camp Pendleton South Mesa Ballroom, the previous location, the AV Irvine was an exciting and modern formal venue. The music was provided by the same DJ who hosted homecoming, a large school dance in October, and he did not disappoint.  For a successful formal an impressive venue is necessary, and the AV Irvine was a perfect accommodation for the event, becoming a favorite among students.
Winter Formal 2017 will forever be in our memories as one of the greatest formals yet. After all of the stressful attire decisions, and the transportation conflicts, San Clemente High School knows a thing or two about throwing a successful Winter Formal. Students adored the new venue and looked absolutely stunning in their most fabulous fashions making 2017 Winter Formal unforgettable. As a follow up to the stressful week of finals and first week back from winter break, Formal was an appropriate and well-needed break for all of the students here at SCHS.