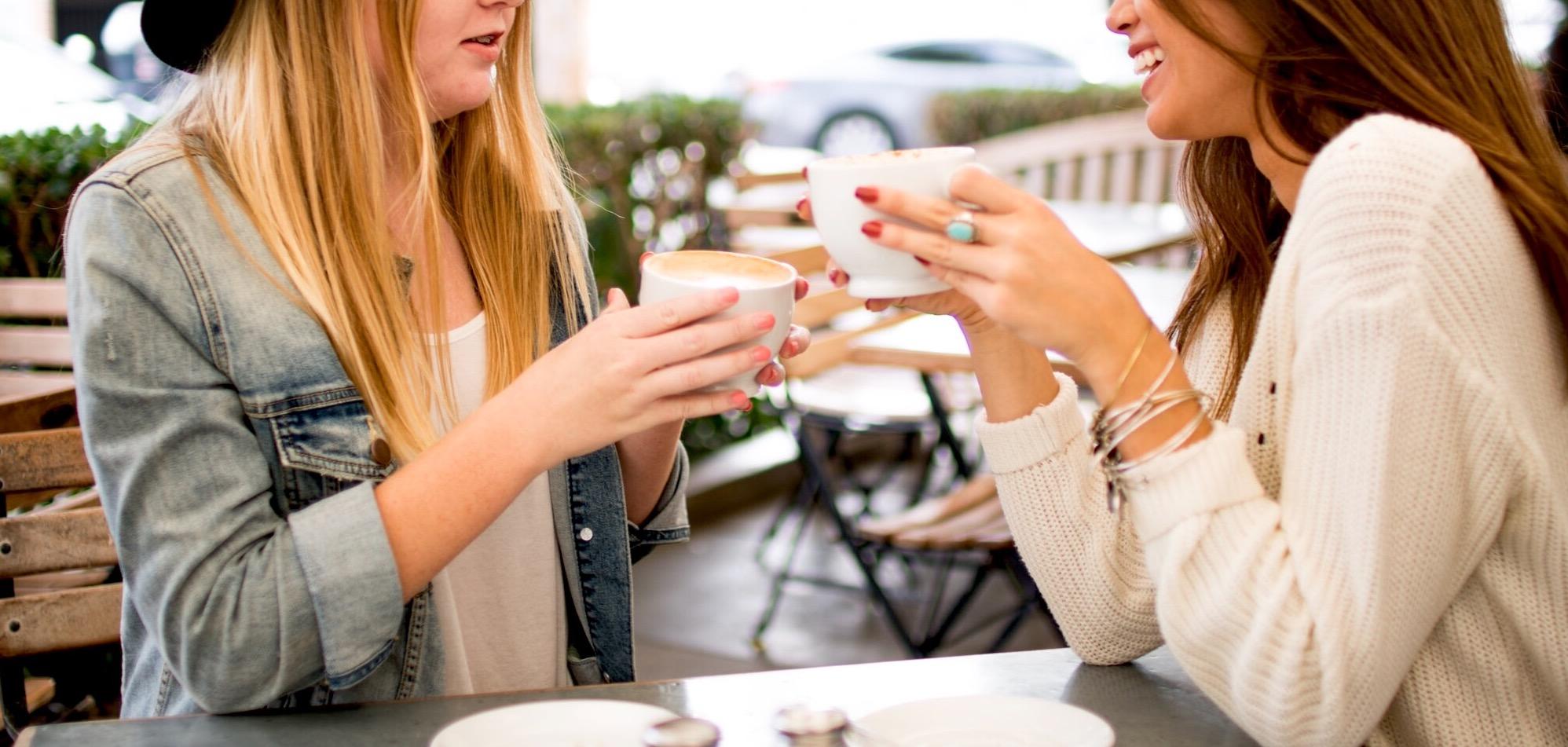 By: Kenzie McKinnon | Writer/Photographer   &   Camryn Ostrander | Photographer/Writer
November 14, 2016
An hour less of sunlight, Starbucks red-cups, and booties? If that doesn't say winter, then what does? Now, we all put Mariah Carey's Christmas album on repeat, we dig out the coziest of clothes, search for the biggest of jackets, and string up the bubble lights to celebrate this time of year… because, IT'S SWEATER WEATHER!!!
However, our lovely city of San Clemente never fails to let us down with sunny days and beachy ways, but for once in our lives, I think we all can agree that the 80 degree weather and uv-rays can take a hike because we desperately need and want to show off our winter attire. Unfortunately, our wonderful weather can make that almost impossible… so here's some winter looks that can satisfy all our "wintery" needs by making sweater weather somewhat compatible with our one-of-a-kind climate!
After endlessly searching for the simplest and cutest of winter?…summer?…swinter? outfits , we've found looks that are here to inspire and make sure you feel confident, cute, and cozy all season long.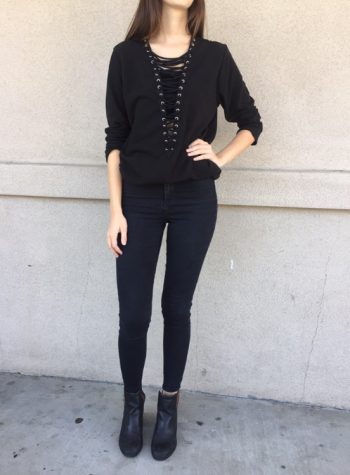 Look #1: "All Black, Everything"
We all know that you cannot go wrong with black. The look includes everything you could possibly want in an outfit: simplicity, class, and a little bit of "sass". Junior Bella Rofsky has mastered this look, sharing "I like how black can bring everything together…it's super easy yet it still shows that you put effort into your outfit." Ultimately, as long as you're confident with this style, than you are sure to knock off somebody's (fuzzy)*** socks!
***fuzzy, because nothing else exists during winter time, "duh"
Look #1 (Part 2): "Grab a Friend and Kill Winter Fashion Together"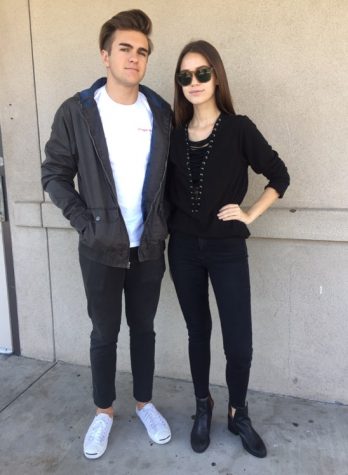 Look good, feel good, and enjoy your "All Black Everything Look" with some friends. Trey Russell and Bella most definitely compliment each other's outfits; not only because they're good friends, but because cold weather looks simply look great together no matter what. So, guys, go grab your favorite shirts, trendy jackets, black pants, go-to shoes, and your girlies wearing their favorite all black looks to kill it on the "winter fashion runway"  (aka… the hallways of SCHS).
With that, winter is just a time to, "get lost in the style"- Trey Russell

Look # 2: "Sunny over Snow Days"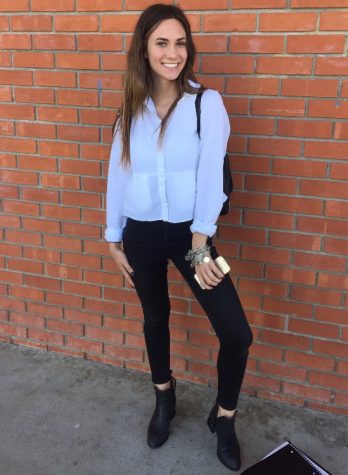 San Clemente doesn't like to disappoint, making it hard when we want to something that's winter-worthy but suitable for the sun. Junior, Taylor Gomez shared one of many cute looks stating that she just likes to keep her outfit's simple, because you can't go wrong with skinny black jeans and an adorable solid button up. Not to mention the V-cut booties she paired with her look! As you can see, she added her favorite jewelry to personalize
her outfit… and to add a "wintery" touch, you can pair a fun scarf with this look to boost the holiday-spirit!
Look #3: "Comfy, Cute, and Cozy with a Pop of Color"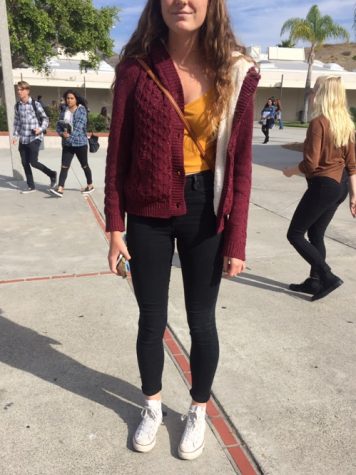 (Not so cold) Cold months don't always call for the darkest hues, and as displayed by junior, Hailey Presnell, fun and trendy colors can make a cute and cozy outfit break winter fashion barriers. To get this look, choose your favorite pop of color and boldly pair it with a maroon, forest-green, or navy jacket or cardigan. Match any type of jeans (ripped, boyfriend, skinny, etc,.) and throw on some Converse, and conquer the frosty (almost frosty?) weather that our winter will hopefully gift us with. (at least once or twice)
Look #4: "A Sweet, Subtle, and Stripey Switch into Winter"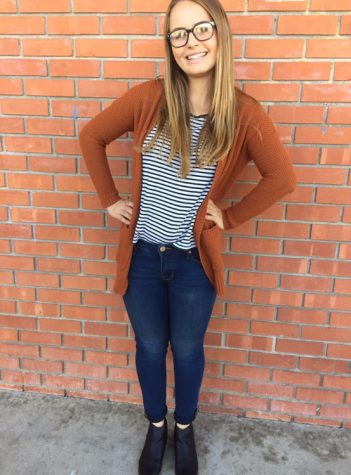 Personally speaking right now, this is one of our favorite looks. First because stripes add a cute and quirky look to any type of outfit and second because it's paired up with an adorable cardigan. Cardigans are the perfect solution to satisfy our winter needs with our summer-like climate. Also, with booties this look is sure to turn heads. If you want to put a personal touch on this outfit, match up your stripes with a denim skirt and some transparent tights to give off a dainty vibe! As Katrin Kjeell shared, "I chose this outfit because it was so simple, but the stripes tied everything together… This is definitely one of my go-to sunny-winter day looks!"
Although our winter season makes it hard for us to dress festively, we can still successfully put together trendy, comfy, and "hot-cold" weather outfits together, while having fun with it. Whether you decide to go all black this holiday season, or spice up your look with pops of color, make sure you are comfortable and happy with the way you feel in your "cutesy swinter" (summer and winter) attire! Have fun!