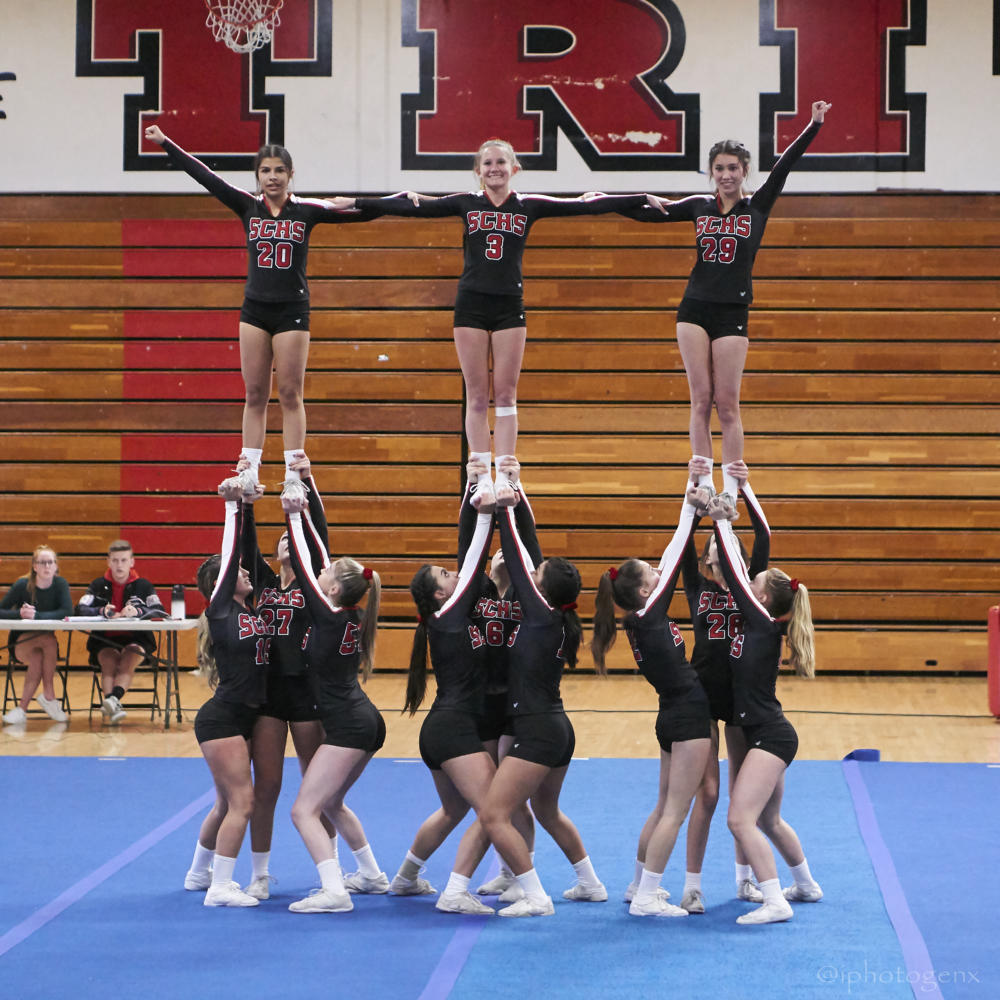 By: Abigail Calandra| Writer
March 15, 2019
STUNT is one of the fastest growing female sports in the nation. USA Cheer created STUNT as an opportunity for colleges, universities, and high schools to fit title IX requirements. Title IX protects people from discrimination regarding gender in educational programs or activities that receive federal financial assistance. With over 500,000 high school cheerleaders already involved in this emerging sport, San Clemente High School officially joined the movement on Tuesday, March 12.
"It's been such a great experience being able to start STUNT at San Clemente High School" said junior, Ryann Leff. "Everyone has such great attitudes and seems to work well together. Our first game was a success, and I can't wait to see where the rest of the season takes us."
STUNT abandons the crowd-leading purposes of high school cheer, focusing on the athletic components of competitive cheerleading: stunts, pyramids, basket tosses, jumps, and tumbling. These elements are combined together into 18 pre-choreographed routines that are split into three different quarters based on their components. Quarter one is partner stunts, quarter two is pyramids and basket tosses, quarter three is jumps and tumbling, and quarter four combines the first three quarters. Two teams perform the routines head on and whoever executes the routine the best receives the point.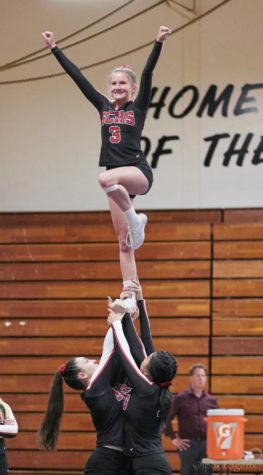 On Tuesday, San Clemente played La Quinta High School during the five o'clock game, winning 15-2. La Quinta High School then played Crean Lutheran High School during the six o'clock game, with Crean Lutheran taking the win. The final game of the night was San Clemente High School  against Crean Lutheran High School. San Clemente won the game 16-5. With the majority of the San Clemente High School team being past and present competitive cheerleaders, San Clemente High School tended to win the point in sections that were tumbling based.
"STUNT is a new sport that allows opportunities for cheerleaders," freshman Ashley Caswell said. "As an ex-competitive cheerleader it is cool to find something competitive and cheer-related at San Clemente High School."
As a first year team with a small roster of only 15 girls (though USA Cheer recommends a roster of at least 16), San Clemente STUNT has already beaten the odds. The addition of STUNT at San Clemente High School was not limited to the members of the current Pep Squad, the introduction of STUNT allowed for other female athletes to participate in the athletic elements of cheer.
"It's so exciting to be involved in this sport," said Coach Amber Smith-Stanco. "This team definitely earned the win and it was a great way to start the season."
STUNT plays again at home on Monday, March 25. With the first game down and four more to go, San Clemente STUNT is a force to be reckoned with.