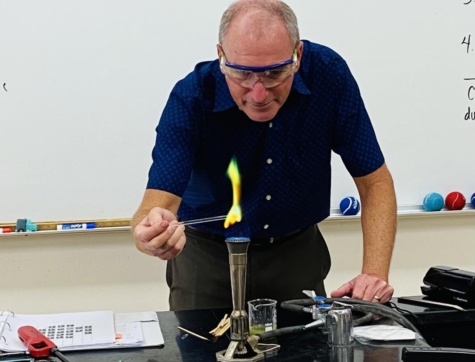 Jack Wolfsohn | Writer
November 4, 2021
A great teacher is a person who not only teaches the course material, but who also supports their students to become the future of our society. Greg Young, longtime physics and chemistry teacher at San Clemente High School, perfectly embodies this definition. 
With his quick one liners and elaborate jokes that are almost always related to the lesson, he has definitely made a large impact on every student he's had over the 23 years he's been teaching at SCHS.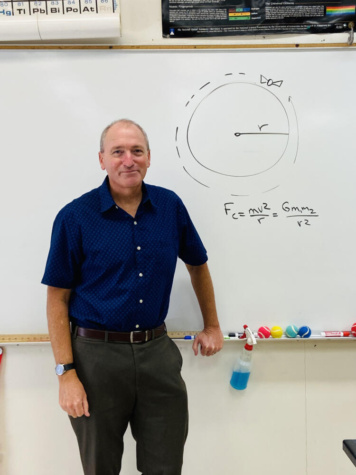 Mr. Young graduated from Revelle College at UCSD and majored in biotech. Simultaneously, he also obtained an emergency teaching credential that allowed him to become a substitute teacher whenever one is required. This emergency teaching credential kick-started his teaching career, as he originally taught at a high school in LA to fill in for a teacher there (he was living in Los Angeles at the time), but soon the school also decided to hire him as a full-time teacher.
A few years later, he left the school but eventually came across our wonderful SCHS in 1998. After realizing how much he enjoyed the experience of being a Triton, he decided to return to college to obtain a chemistry credential and to take some extra classes to boost his existing knowledge of physics, making him the perfect fit for teaching AP Physics 1 and AP Chemistry here.
When asked about the science department at SCHS, Young explained that he "helped to improve the science department here," but he was being a little too modest.  Over the last two decades, Young has had many of his own students venture into degrees in the sciences, and he's overjoyed to see that they have continued their lives surrounded by science.
He says that "every year was different, so none of them are comparable," when asked about his most memorable year as a teacher. Young, however, does find the changing relationships between him and his students (from when he was 25 to when he was 45) to be very interesting and unique. 
If you have ever taken one of Mr. Young's classes, you know that his humor is very reminiscent of dad jokes, like but his jokes also portray his continual desire to find joy in the little things. For as long as Mr. Young continues to teach at SCHS, he will always serve as an inspiration to countless students as he encourages a new generation of scientists.