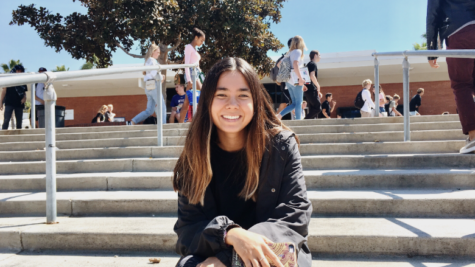 By: Meghan Byrne | Writer
September 27, 2017
As the fall semester unfolds, our campus is buzzing with activities for the student body. From sports tryouts to campus events like the upcoming musical "Little Shop of Horrors," there are plenty of opportunities for students to get involved in the campus life.
In the wake of Club Rush, San Clemente High School students also have the ability to participate in community service through some of the clubs on campus. One example of such a club is the Blue Oceans Club, whose focus is cleaning up trash on our local beaches. I sat down with the club's president, senior Erika Hunting, and vice president, senior Sammy Seefeldt, to find out more about how they are making a difference.
MB: Did you start the club, or did it exist before you attended SCHS?
EH: I started the club. I was a sophomore when I started it. I'm a surfer, and I saw a lot of trash in the ocean and on the beach, so that's why I started the club.
MB: I know that you guys do beach cleanups pretty often. How often do you do them and what else do you do in the club?
EH: We do them once a month. Other than that, we are just focused on raising awareness for microplastics and pollution in general. This year, we are going to try to have some movie nights, maybe watch some documentaries on pollution and stuff.
SS: Erika also received a grant for recycle bins for bottles and cans! You can see them in the quad.
MB: So your club and Team Zissou have kind of similar niches at SCHS. What do you think sets the two clubs apart?
EH: Team Zissou is more political. Blue Oceans Club focuses more on pollution and ocean-related environmental problems, like Team Zissou does more protests and stuff…BOC is more about cleanups and education. But both clubs do service-related things.
I found my conversation with the girls to be very informative. In the chaos of Club Rush, it is often difficult to find out details about how clubs on campus are making an impact on our school the community, but it's not too late to become a part of something like the Blue Oceans Club. Their next meeting is October 13 at lunch in Ms. Brislen's room P-35.
When asked for further comment on the mission of BOC, Sammy replied, "We need to become more conscientious of the effects that trash pollution and thoughtless waste is having on our oceans. The beach is not only out home that we need to keep clean, but the more important fact is that the ocean is home to almost half of the world's species. Small steps like recycling and monthly beach cleanups is where to start. Not only is it a fun way to spend time on the weekend and enjoy the company of your friends at the beach, but also a rewarding and impactful service to the community and the environment."
Erika added, "It's important just to be aware of where our trash is going. Taking action and doing cleanups is a good way to become cognizant of what types of trash are ending up on the beaches and in the environment. This forms an important basis for changing your lifestyle in a positive way."