By: Sydney Donovan| Editor 
December 12, 2019
The famous Happy Harbor Days have begun in Dana Point. Thousands of holiday lights, giant whale sculptures, a surfing Santa, and the popular " Merry Kiss Me" photo opportunity are bringing excitement to the Dana Point Harbor. The lights are beautiful and light up the night sky as pictures are constantly being taken. There is a light tunnel that goes through the harbor, and the palm trees are covered with lights on the drive through.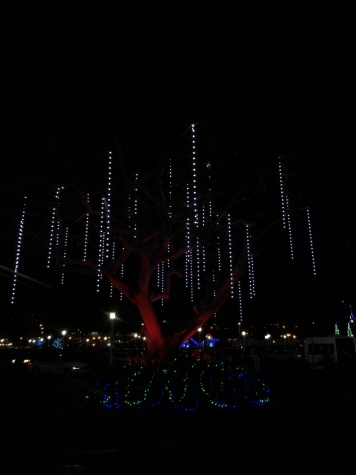 On November 22, a team of 20 workers put up all the harbor lights. There is an area with live music and small shops open throughout the harbor. It is very festive and popular throughout Orange County, as many people come to visit and get into the holiday spirit. The light display runs from Thanksgiving to New Year's in January.
While walking or driving down towards Baby Beach, just past the Marina Inn and the harbor offices, there are lit-up trees and wave tunnels to experience. The blue and white lights actually move in a way that makes people feel as if they are in the barrel of a crashing wave.
"It's the best feeling when I get to walk through this, almost like I'm surfing the wave," San Clemente High School senior Dana Shany said.
These lights have been popular for many years and a great place to go for an outing. Many young families love to take their kids to experience the lights; everyone is joyful and in the holiday spirit. Many San Clemente residents have already experienced the harbor lights.
"It was worth the trip," junior Haley Prather said. "I got ice cream and got to watch tourists being tourists and taking pictures," 
It's definitely a fun outing for all ages, as many people love to gather here for a nice walk and view of the lights along the harbor.