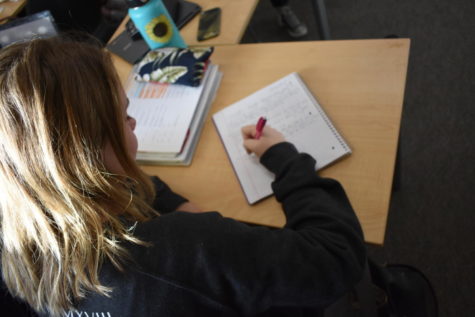 Courtney McDonald | Writer
April 13, 2018
It's that time of year again! The Barron's review books are being purchased, teachers are hosting review sessions (for the most part), and students are stressing out.
AP tests are just around the corner, forcing students to reflect on everything they have learned this school year and put it to the test.
AP testing begins the second week of May, and finishes on the 18th of May. CollegeBoard, the company that creates the AP tests, administers over 30 different tests in these two weeks. These tests seem to be the bane of every high school student's existence, but they are the reason we take these classes in the first place. Every student enrolled in an AP course hopes that at the end of the year, when they pay a ridiculous $100 per each test they wish to take, they will pass any they take and possibly get rid of courses they may be required to take in college.
However, regardless of the fact that many people emptied their pockets to take these exams, students find that they do not always pass them. And, at least from personal experience, most go into the test believing that they know nothing, and that they will fail it. Brittany Leung, junior, elaborated on this concept, stating that, "No, I don't feel prepared. And I'm only taking one AP test. I can't imagine how people with multiple AP classes are feeling."
We, as students, tend to doubt ourselves far before we become confident. Although a very pessimistic point of view, it's hard to steer ourselves away from disbelief in our knowledge and abilities.
However, we are taking them with the impression that our teachers have done their job correctly by helping us develop the tools we need to successfully take these tests and pass with at least a 3. Glancing back at the year, we do possess the knowledge necessary for these exams.
In the end, studying hard and passing these tests can be extremely "worth all the pressure," Chandler Eldridge, junior, concluded. "They look good on college applications and can help you save money in college," Eldridge added.
This should be the goal we maintain as these tests rapidly approach. Try to stay positive, as it's in your best interest. Good luck and happy testing!