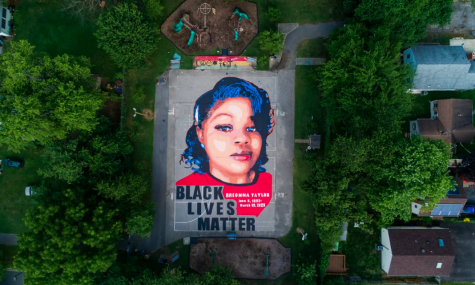 By Eden Milligan | Head Editor
September 21, 2020
She is everywhere. Her face is on basketball courts and billboards and protest signs. Her name is on petitions and hashtags and tee-shirts worn by celebrities. The world is demanding that her story is heard and that her killers are punished, yet six months after Breonna Taylor bled to death in her own home, the officers who killed her have not been convicted. 
The movement around Breonna Taylor's killing has undeniable momentum. Since she was shot on March 13th, the change.org petition labeled "Justice For Breonna Taylor" has amassed over eleven million signatures. In July, a 7,000 square foot mural was painted on a basketball court in Maryland that depicts Breonna's face along with the phrase "Black Lives Matter." Just days ago, her family was awarded a $12 million settlement from the city of Louisville. It seems that every possible measure has been taken to bring justice to her wrongful death—that is, every measure except the one millions of people are asking for. 
So why is it that the police officers involved in Breonna's killing have not been arrested? Well, the case is more complicated than it seems. Breonna's boyfriend, Kenneth Walker, shot at the past-midnight intruders, not realizing they were policemen. For this reason, the shots that the police fired back into the apartment, eight of which struck and killed Ms. Taylor, can be classified under self-defense. Of course, this is a difficult case, because the police themselves were instigators of violence; they knocked down the door and barged in without announcing themselves, which prompted Walker to shoot. However, certain laws exist in Kentucky that prevent police from being perceived as aggressors in instances of self-defense. 
The matter is made even more complicated by a series of tangled laws and Supreme Court rulings that extend special protection to police officers. The 1989 case Graham vs. Connor was one of the most significant rulings about the use of excessive force by police. It determined that an "objective reasonableness" should be applied to excessive force accusations. Essentially, police are given the benefit of the doubt in cases that appear to involve self defense. For these reasons, Breonna's killers appear to be off the hook for now. However, it is still possible for the officers to be convicted.
Although a major component of Breonna Taylor's tragedy remains unresolved, some important legal action has come out of her case. A series of sweeping police reforms were recently passed, which will hopefully prevent a disaster like this from occurring again. These reforms include changes to the search warrant process, which will make warrants more difficult to obtain. Coupled with the ban of "no-knock" warrants in June, it now seems unlikely that the circumstances behind Breonna's case will arise again. 
Even with these reforms, many people feel that Breonna Taylor's case will not be made right until officers Jonathan Mattingly, Myles Cosgrove, and Brett Hankinson are fired and jailed. "I was not aware of [the recent reforms made], but I do not think justice was served, because the police officers who killed Breonna are still out walking the streets," junior Lola Olguin said, when asked about the recent search warrant reforms in Louisville.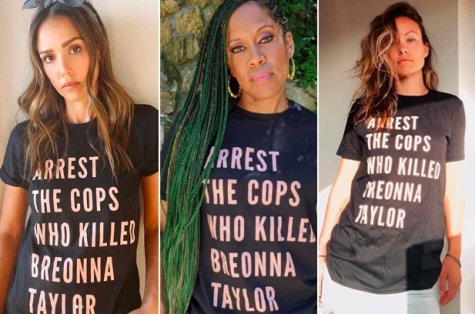 Other students have similar opinions on the topic. Junior Elio Galindo believes the warrant reforms are a step in the right direction, but he doesn't think the changes will be enough to "prevent another incident like Breonna's."  
"I don't think any amount of money or reforms can bring justice," junior Samantha Shaw said.  Shaw is doubtful that recent reforms will do any good, and she is not impressed by the $12 million given to Breonna's family.
The enraged fervor surrounding Breonna's case will likely continue until the people feel that justice is truly served. Only one of the three officers involved in the killing has been fired, and none of the men have any current charges against them. For impassioned activists and sympathizers who have been involved in the case for months, this is unacceptable. "I'm angry that she had to die the way she did, I'm angry that there wasn't justice," Shaw said. The rest of the world is angry, too.