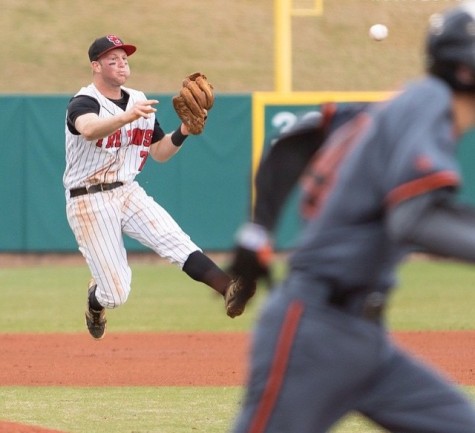 By Martina McAllister | Writer
May 20, 2015
As the San Clemente High School 2015 varsity baseball (22-7 overall, 10-2 league) team steps into their next adventure at CIF as the 5th ranked school in California, I decided to take a look into the life of team captain third baseman Trevor Beard and ask him a few questions about his last year being a Triton.
San Clemente baseball has accomplished many things this year with clenching the NHSI National Championship title in North Carolina on March 28th and then later taking a league champion title as well, and now starting this Friday at home at 3:30 p.m., the Tritons will be working their way towards a coveted CIF championship.
What has been the best part of this season so far and why?
The best part of this season so far has definitely been winning the NHSI national championship with all my brothers by my side. It truly shows how much we all care and how if we work at something if we want it bad enough we can get it. 
What is your best accomplishment through your years of playing baseball?
My best accomplishment through all the years is committing to Purdue to play baseball for them.
Overall how do you feel the team did this year in league?
We won overall league title and we did our very best which paid off for us in more than one way. 
Has there ever been a special moment that has made you look at the game of baseball differently?
When we won the NHSI national championship, it really made me think of how great of a baseball team we really are and how much each and every one of us care about each other and that we would do anything for each other because we are not just teammates, but we are brothers. 
Who has influenced you the most this year and why?
The biggest influence this year has definitely been all the guys on the team because we are all so supportive of each other and we care so much about each other.
What are your plans beyond high school?
I am going to be attending Purdue in Indiana, and I will be playing baseball on their team for the next four years and will also be majoring in Kinesiology while attending. 
What will you miss the most once you graduate?
The things I will miss the most is everyone that I have spent my whole life with and all the boys that I have been playing with since I was in little league, it will be hard adjusting to not having my all my brothers playing with me everyday. I will also miss California, because I will be going to Indiana and it is a whole different life there than it is here.