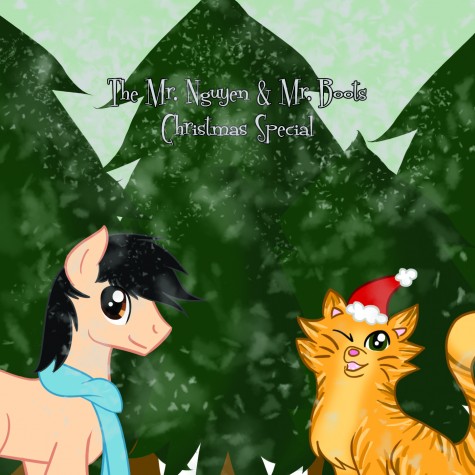 By, Jahfreen Alam | Writer
December 18, 2015
Mr. Nguyen– he's a chemistry teacher, brony, Breaking Bad fan, dancer extraordinaire, piano enthusiast, popular YouTuber, aspiring children's book author, film star, and an enigma.
Now? He's an album dropper.
Mr. Nguyen and Mr. Boots Christmas Special can't be described as anything but a holiday experience. With a total of 12 tracks ranging from classics such as "Winter Wonderland" to  youthful tunes like "Rudolph the Red Nosed Reindeer," Mr. Nguyen plays them on the piano with a combination of elegance and expertise.
The piano versions of these well-known Christmas songs are revamped, the sound turning into something classy as Mr. Nguyen plays without hiccups, using clever key changes to add a little extra to the song while still making it perfectly recognizable.
"He made the songs ten times better," reveals Junior Gabby Reid, a student of Mr. Nguyen. "I love Christmas music and piano, so it really got me in the holiday spirit. I really think he's a talented musician."
The album is serious, smooth, but full of holiday cheer. It's the perfect background music while you're studying, for when you're getting ready, or when you're lazing around, in a bed of blankets with a cup of hot cocoa.
Really, the album is perfect for when you really want to be in the Christmas zone. While listening to it, junior Julia Becker discloses, "This is perfect. I'm eating a candy cane right now, and I'm really in the holiday spirit. Proodian is great, but it kind of makes me wish I was in Mr. Nguyen's class because of the music."
Since no other teacher on campus has produced and released a full-fledged album, I took it upon myself to interview Mr. Nguyen to get his thoughts on the album, among other things.
J: What gave you the inspiration to produce a Christmas album?
N: Well, everyone likes Christmas. It let me express myself in a Christmas-y way.
J: How long have you been playing piano?
N: Nine years. I started when I was eighteen.
J: Did Mr. Boots (Mr. Nguyen's cat) contribute to any songs?
N: He likes being in the limelight. He can't play instruments though, because he doesn't have opposable thumbs.
J: Were there any songs that didn't make the cut?
N: "Silent Night" and "Holly Jolly Christmas". But, I cut it down to 12 songs to represent the 12 days of Christmas. When I arranged the songs on the back of the CD by the keys the songs were in, the titles formed a Christmas tree by coincidence.
J: Wow, that's awesome!
N: It's pretty cool.
J: What's your holiday wish?

N: For Ally and Emerleigh to get an A on the next test.
J: Can we expect a part 2 in the future, perhaps?
N: Yeah, A Mr. Nguyen and Tuppy Christmas Special. Tuppy is our family dog.
While Mr. Nguyen and Mr. Boots Christmas special, may seem exclusive to only Mr. Nguyen's students or teacher friends such as Ms. Shick who seemingly "made the cut," anyone can buy an album, naughty or nice!
Drop by room 500 for a $10 CD, and start the holidays early.