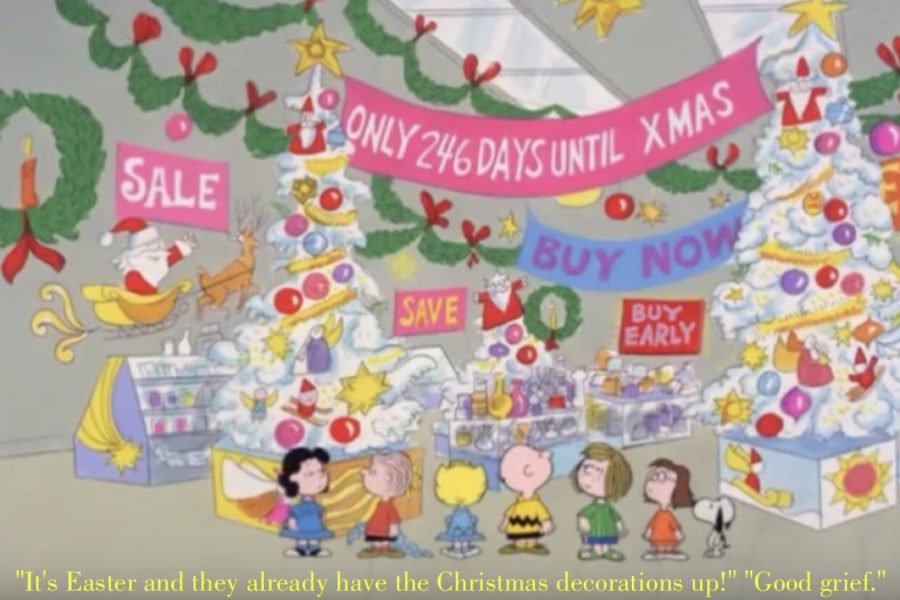 By: Lexi Kortman | Writer
November 8, 2018
Walk into virtually any store on November 1 and you'll be surrounded by Christmas decorations galore. For that matter, walk into any store on September 1 and Christmas supplies are starting to trickle in. This phenomenon, known as the "Christmas creep," is an economic move by retailers to take advantage of Christmas-related shopping before Black Friday, and to lengthen the selling time for Christmas merchandise. Whether or not this marketing practice is corrupt is up to debate, but this controversy goes along with a controversy much deeper: when is the appropriate time for the Christmas season to start?
To some, if the start of Christmas time were in April it would be a welcome surprise. However, to others, beginning to get ready for Christmas before Thanksgiving, or even Halloween, is jumping the gun on Christmas festivities.
"Christmas starts November 1," senior Lily Lewis said. "Thanksgiving is a day for giving thanks and celebrating with your family, but I can give thanks and celebrate with my family while having a Christmas tree in my living room, wearing a Christmas sweater, and listening to Christmas music."
There are a few arguments for Christmas starting early. It's a way to celebrate the "most wonderful time of the year" for even longer. Starting November 1 allows for almost a full two months to have your house decked out in Christmas lights and listen to the Michael Bublé Christmas album on repeat. Furthermore, proponents of an early start say that Halloween and Christmas each have enough decorations, music, movies, activities – just overall hype – that they get their own respective seasons. However, Thanksgiving does not have this innate hype, and thus Christmas, the more dominant holiday, should take over Thanksgiving's "season."
"Starting Christmas after Halloween puts the 'mas' in Christmas," senior Cory Sugano said. "Taco Bell says 'live mas' and I take that to heart. Starting early adds to the festivities, and adds more liveliness to my life. I like to live mas, and this means celebrating Christmas for two whole months."
On the flip side, those who favor the start of the season being after Thanksgiving argue that, by celebrating both Christmas time and Thanksgiving at once, both holidays are diminished. Moreover, you're bound to get burnt out on Christmas festivities before Christmas day actually hits if you celebrate for two months. Christmas loses its true meaning when it's drawn out for months and commercialized.
"I think that each holiday is special for its own reason," math teacher Mrs. Noble said. "If you start celebrating holidays before other holidays, then it lessens the specialness of each one, and makes that chunk of time you celebrate for less meaningful. If I'm celebrating Christmas for two months, that's a sixth of the year, and that's not Christmas season."
What does America have to say about this? In a poll on FOXNow.com, 58 percent of people prefer beginning to celebrate the Christmas season after Thanksgiving, while only 41 percent think we should celebrate after Halloween. This seems contrary to what people believe and the norm of always celebrating as early as possible.
Don't let this get you down, though. Whenever you celebrate, or whatever you celebrate, do it in the way that is most meaningful to you.