By: Lang Csira | Writer
February 20, 2019
Rocket Fizz displays a colorful, old-time shop window on Del Mar. The shop sells everything from sodas to jelly beans to bubble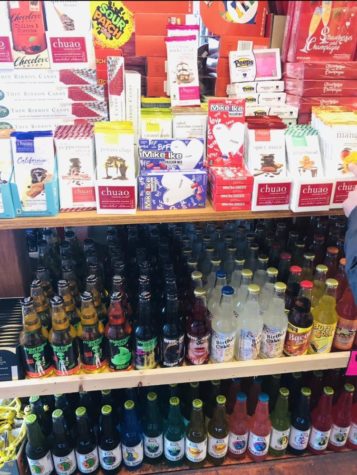 gum and every candy related nick-knack  you could think of.
"I love looking in the taffy section!" junior Adrina Daniel said. "They always have so much taffy and it is so pretty and fun to look at."
One wall is covered floor to ceiling in funny metal signs you can read while friends brows the candy selections. The longer you wander the shop, the more wonders you find hidden on the shelves. The shop is a lour for anyone strolling down Del Mar, a mist- visit shop and key stone for the whole area.
"I love Rocket Fizz because they have a variety of candy you couldn't get in just a normal candy store," sophomore Anna Dillbeck said. "You can get European candy there and it's really cool."
Rocket Fizz reinvents the candy industry while staying old- fashioned. Workers are always smiling and interested in customers. It is made to please all!
107 Avenida Del Mar, San Clemente, CA 92672
| | |
| --- | --- |
| Friday | 11AM–9:30PM |
| Saturday | 10AM–9:30PM |
| Sunday | 10AM–9PM |
| Monday | 11AM–9PM |
| Tuesday | 11AM–9PM |
| Wednesday | 11AM–9PM |