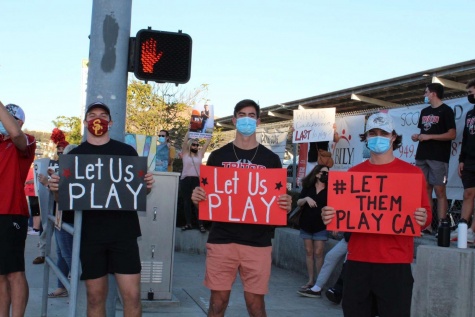 Jack Harris | Writer
January 17, 2021
Amidst the constantly growing numbers of COVID cases in the US, high school sports are being put further into jeopardy of whether they will be played or not. Players, coaches, and supporters alike are all waiting for the green light from the state, but crazy ups and downs with this virus have sent teams into spiraling chaos between the levels of what they are able to do and not do. 
Time is running out and answers are still unclear. However, parents around the state are now becoming impatient; they want their kids to play. In attempts to change the current state of sports, parents organized a statewide rally for Friday, January 15, at high schools acres Southern California, including your own San Clemente High School.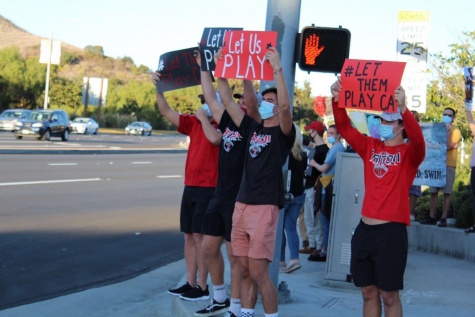 This movement started on Facebook with the beginning of a page called 'Let them Play CA.' This facebook group has garnered over 32,000 parent followers who rallied at their children's high school on Friday.
"I think what the parents are doing is ok," senior Aidan Giacobello and member of the Boys Varsity Soccer team said. "As long as everyone has a mask on and stays socially distanced, it's fine because they are exercising their first amendment rights." 
The rally had somewhat of a good turnout, with about thirty people showing up, most of which were there to support the football team. Players and parents showed up with signs reading 'let us play' and 'we love sports.' Rallies around the state went similarly.
"I hope this rally puts us on the district's notice, and I believe this is something totally reasonable," senior Trevor Tuttle and member of the Boys Varsity Soccer team said. His mom attended the rally. "The seniors deserve a chance to play the sports they love one last time."
Who knows if the rallies will make a difference in the state's decision making process. Many of these kids are seniors, and all they want to do is play their last season of sports, but the health and safety of everyone must be first. Time continues but COVID is not going away, so it is up to California to give us a decision.