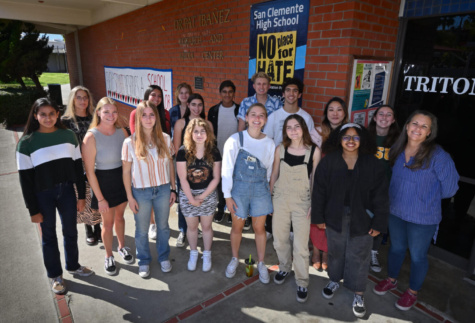 Daniella Flores | Writer
May 20, 2022
For about 5 years, Capistrano Unified School District has been discussing access, diversity, equity and gaps. 
This year, the school district is implementing its Cultural Proficiency Plan. This program was adopted by the Capistrano Unified Board of Trustees in December of 2020. According to Cuco Garcian, Executive Director of Cultural Proficiency, the goal of the program is "to create positive systematic change for all students and establish an inclusive environment where the community values diversity." 
The main goals and strategies of the plan include: 
Ensure students have access to support and feel connected to school. 

Examine and improve discipline practices policies through a cultural proficiency lens and educate adults on said practices. 

Increase student voice and students' cultural proficiency. 

Hire, support and retain an increasingly diverse staff representative of the student demographics. 
"Capistrano Unified School District is committed to equality, diversity, inclusion, acceptance and human and civil rights for all," Supt. Kirsten Vital Brulte said. "We are proud of the diversity in our schools and communities and we are committed to ensuring that all students have access to all of the wonderful programs, classes, and opportunities that are offered in our District. (midcitiespsychiatry) "
In Fall of 2019, the Capistrano Unified Cultural Proficiency Task Force began examining the data and Districts Policies and Procedures. This Task Force was composed of students, teachers, parents, administrators, and district office staff. 
In the end, the Task Force presented a plan which allows for creativity and flexibility so that all campuses have room for improvement to create change that benefits all students. 
Elementary schools are creating unity quilts that represent certain aspects of the students' cultural traditions. Secondary schools are focusing on Latino Heritage Month and Native American Heritage Month. Schools are also working with the Anti-Defamation League to create their own equity clubs. The District office is working to offer more translation and interpretation services. 
The District is also offering anti-bias training and equity access training for all employees in order to help school staff build their knowledge of identity and cultural proficiency. 
"I think it's very important that teachers receive anti bias training, especially because as students we spend the majority of the day with them," junior Emma Massamiri said.
School administrators have embraced the plan. These schools have set goals that include reviewing hiring and recruitment practices, analyzing student suspension rates, providing access to Advanced Placement (AP) and International Baccalaureate (IB) classes, reducing the number of absentees, and combatting bullying. 
Here, at San Clemente High School, the entire staff attended training provided by the Anti-Defamation League, an international Jewish non-government organization specializing in civil right law. After the training, SCHS adopted the No Place for Hate Program, an Anti-Defamation League sponsored program run by Ms. Brislen and Ms. Kang. 
The No Place for Hate group – composed of students, teachers, staff members, and administrators, work together to bring awareness – focus on inclusion, and support all students. 
"After the events that happened in fall of 2019 [when SCHS students were accused of racism during a football game], I think that it was a great idea to implement the No Place for Hate program at SCHS," junior Tessa Campbell said. "The activities that we do in homeroom force people to have the uncomfortable conversations that promote change at this school."
Three times throughout the school year, there are No Place for Hate school-wide events. Some of these events have included an annual pledge students are encouraged to sign, filming testimonial videos, an activity educating students on allyship and the importance of being an upstander, and creating and placing posters around campus. 
The CUSD Cultural Proficiency Task Force will continue working on district campuses, implementing the plan and working towards their goals. The Task force will also be required to provide quarterly progress reports to the Capistrano Unified Board of Trustees.
To read the CUSD Cultural Proficiency Plan, click here:
https://www.capousd.org/subsites/Education–Support-Services/documents/FRC/CUSD-Cultural-Proficiency-Plan.pdf