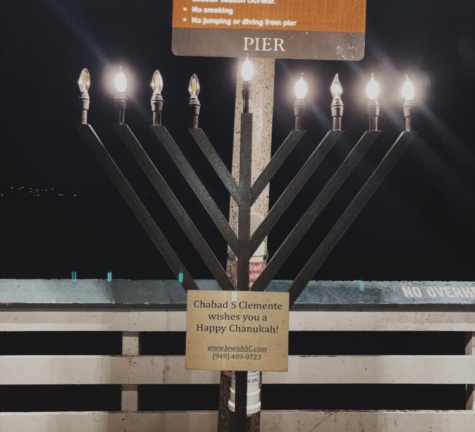 Amy Parr | Head Editor
December 3, 2021
Hanukkah is a Jewish celebration that dates all the way back to 166 B.C. After King Antiochus IV Epiphanes outlawed Judaism, massacred thousands, and destroyed the holy Second Temple, a rebellion broke out in Jerusalem. Fortunately Jewish priest Mattathias was able to drive out the destructive Syrians and restore the temple. This reassertion of faith inspired an eight-day celebration composed of menorahs, prayers, and lots of delicious foods.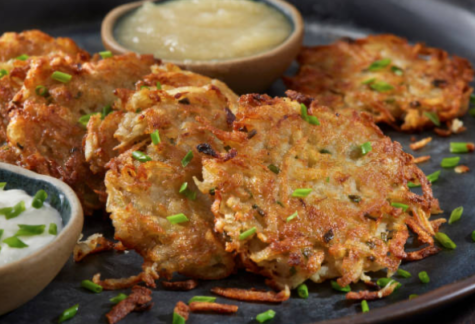 "My favorite Hanukkah food is latkes for sure," senior Izzy Duzman said. "They are like potato pancakes and they are super good. I either eat them with salt and sour cream or sometimes I put sugar on them." 
These delicacies are unfortunately unknown to most Americans due to the pervasiveness of Christmas in Western society. "It's kinda sad because really no one—except those who are Jewish and sometimes their friends—knows that it is Hanukkah," Duzman said. "On the other hand, though, I do like being able to tell people that it is Hanukkah and explain how I celebrate it with my family. It makes me feel almost unique because I don't know too many people that are Jewish, so I like being able to share information about Hanukkah with people."
The amount of awareness might be underwhelming, but today there are strides to bring light to this beautiful holiday. Locally, there is a menorah located at the end of the San Clemente Pier to the left of a Christmas tree.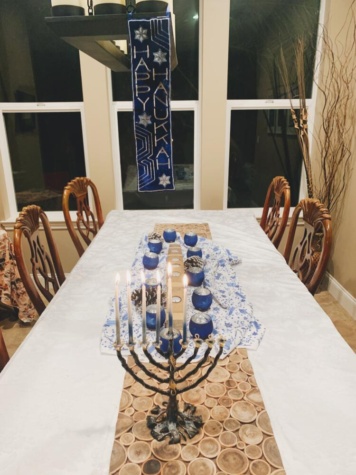 Unlike most holidays, Hanukkah is unique in that it does not fall on the same dates every year. This is because the Hebrew calendar is lunisolar, relying upon both the sun and the moon, while the Gregorian calendar is purely solar. Hanukkah begins on the 25th of Kislev (late November to December) and lasts for eight days. This year, Hanukkah takes place from November 28 to December 6. These eight days are represented on the menorah, with an additional candle that acts as a helping candle, known as a shamash.
"We always start by lighting the middle candle, and then we say a prayer," says senior Evan Lipofsky. "After the prayer, we use the middle candle to light the others and we let them burn all the way down, and then we replace them with new candles for the next day."
The menorah has become the most iconic symbol of Hanukkah, sparking the kind of joy that many would receive from the sight of a Christmas tree.
"Every year I look forward to celebrating Hanukkah," Lipofsky said. "I hope that everyone has a wonderful Hanukkah and a happy holiday season."